Reports indicate that many Adobe Creative Cloud users are experiencing font issues after updating to macOS Monterey. Whenever users try to manage fonts, Adobe CC freezes on the Get Adobe Fonts screen. And the only way to fix the unresponsive apps is to force quit the app. While there isn't an official word yet, we've put together some handy solutions to fix the frustrating "Adobe Fonts Loading" error on macOS Monterey. So, check them out if you have encountered the freezing problem on your Mac too.
8 tips to fix Adobe Creative Cloud's font loading error on Mac (December 2021)
Although the Adobe Fonts loading problem appears to be due to an error, try basic troubleshooting tips first. This includes fixing the poor WiFi connection, updating the app, or using the nifty Adobe repair tool. If the problem is not resolved, then you should proceed with radical measures like uninstalling the Creative Cloud app or using the official Adobe Cleaner tool. With that in mind, let's get down to business!
Turn WiFi on / off on your Mac
The font loading error in Adobe Creative Cloud could be the result of a sluggish or poorly functioning Wi-Fi connection. So, first of all, make sure that your internet connection is strong and working normally.
Click the Wi-Fi icon in the top right corner of the screen and turn on the Switch WiFi. Then wait for a while and turn the Wi-Fi switch back on. Now launch Adobe CC to see if the font problem has been resolved.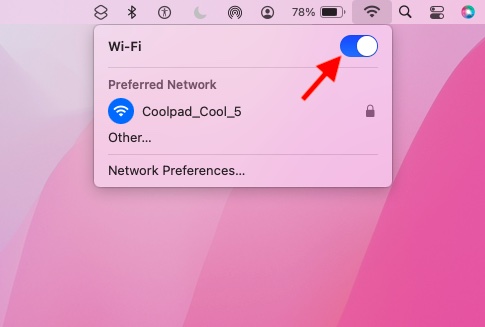 Restart your Mac or MacBook
If Adobe CC still freezes while managing fonts, restart your Mac. I can't remember the number of times a reboot helped me fix various issues in macOS Monterey. Hence, it would be wise not to miss this effective solution.
Press the Apple menu Icon in the top left corner of the screen and select Restart in the drop-down menu. After your Mac restarts, open Adobe CC and see if you are still getting the "Loading Adobe Fonts" error or not. If not, you have successfully resolved the problem.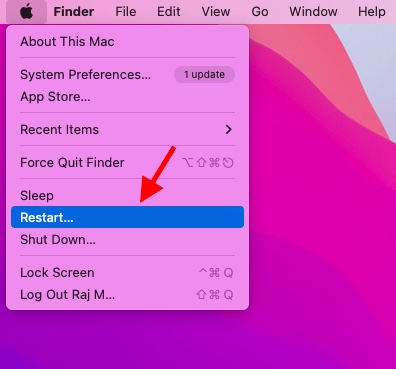 Update Adobe Creative Cloud apps
If you haven't updated Adobe Creative Cloud in a long time, there is a good chance the problem is with the outdated version. So the next tip would be to update the apps, and here's how:
Open the Creative Cloud desktop app on your Mac. Then click on Menu icon in the upper right corner of the screen -> go to the Apps tab -> Updates -> Check for Updates. Now update apps individually or all at once using the "Update all" button.

Sign out and sign back in to Adobe CC
Sometimes you can fix certain app-related issues by logging out and then logging back in. Try this always reliable solution if none of the tips above worked for you.
Start the Adobe CC app on your Mac -> Gear icon at the top right -> Settings -> General -> Account tab -> Sign out.
Now click with the right mouse button on the app icon in the dock and choose Quit. Next, open the app and sign back in.
Repair Adobe Creative Cloud on your Mac
Now, if you still get the "Download Adobe Fonts" error on your Mac, use the official repair tool to fix any app-related issues.
First, make sure to close all of your Creative Cloud apps. Then, Download the uninstaller for the Creative Cloud desktop app for your Mac device. Next, double-click the zip file, then double-click Creative Cloud Uninstaller.
When prompted to open the file, click Open minded Option and enter your administrator password.
Finally click on "repair"In the appearing pop-up. After the Adobe CC desktop app is repaired, open it to see if you fixed the font loading problem on your macOS Monterey device.

Uninstall / reinstall Adobe Creative Cloud Desktop
If the problem persists, uninstall and then reinstall the Adobe Creative Cloud desktop app. Before doing this, however, make sure that all of your files have already been synced to the cloud. Note that the files that are not synchronized may be lost in the process.
1. To get started, Download the Adobe CC uninstaller App for your macOS version via the following links:
2. Next, unzip the zipped file. Just double-click on "Creative Cloud Uninstaller.app"Installation file. Now you may get a warning to open the uninstaller from the provided DMG file. Select "Open" from the pop-up to continue.
3. Now you will see a pop-up that says: "Are you sure you want to uninstall the Adobe Creative Cloud app? You can repair the installation to fix any problems. " Click "Uninstall". The uninstaller will remove the Adobe CC app from your Mac and display a confirmation message.
4. You can then reinstall Adobe Creative Cloud from scratch to see if the font error on your macOS Monterey computer has been resolved or not.
Run the Adobe Creative Cloud Cleaner Tool (Most Trusted Method)
The Adobe Creative Cloud Cleaner tool is very effective for removing or repairing damaged files. Because of this, it is well worth trying this efficient tool to fix Adobe font loading error on your Mac device. It's also said to be the most reliable solution shared by users on the official Adobe community forum earlier this year.
Before running the Adobe CC Cleaner tool, make sure to close all Adobe Creative Cloud apps and complete / terminate all Creative Cloud background processes.
Also, make sure to back up all of your files and folders.
Make sure your files have already been synced to the cloud. Note that files that have not been synced with your Creative Cloud account could be lost.
After you've backed up all of your files stored in Adobe product directories, go to Finder -> Applications -> Utilities -> Adobe Installers. Now, double-click the Adobe Creative Cloud uninstaller and follow the instructions to complete the uninstallation.

Next, Restart your Mac. Then download the Adobe Creative Cloud Cleaner tool for your Mac.
Once downloaded, double-click the AdobeCreativeCloudCleanerTool.dmg file. Next, open the Terminal app and enter the following commands:
To get rid of all products above CS6 enter the following command –
sudo [Path to Adobe Creative Cloud Cleaner Tool.app]/Contents/MacOS/Adobe Creative Cloud Cleaner Tool --removeAll=CREATIVECLOUDCS6PRODUCTS
To delete all products under CS6 along with Adobe ID credentials, enter the following command –
sudo [Path to Adobe Creative Cloud Cleaner Tool.app]/Contents/MacOS/Adobe Creative Cloud Cleaner Tool --removeAll=ALL
Now make sure that the Adobe Creative Cloud Cleaner tool completed the task at hand without any problems and check the log file entries. Next, it's time to reinstall your Creative suite of applications.
Update your Mac
Is Adobe Creative Cloud still freezing due to the font loading error on your Mac? If so, it could very well be a persistent macOS 12 Monterey bug causing the problem. Given how buggy macOS 12 has been lately, this possibility shouldn't be ruled out. The good thing is that most of the macOS updates have a ton of bug fixes and performance improvements. Hence, simply updating the software can help you fix Adobe CC on your device.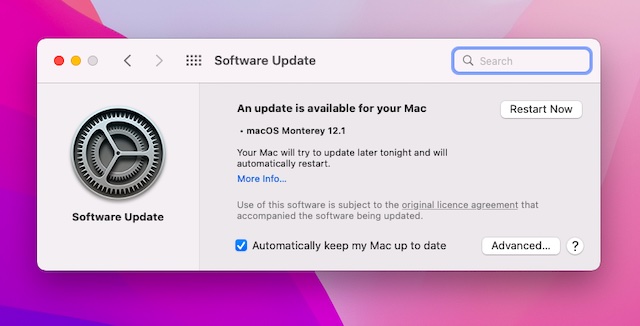 Fixed a bug when loading Adobe Fonts in macOS Monterey
So yeah, that's pretty much it! Hopefully Adobe Creative Cloud will work normally on your macOS Monterey device and will no longer trigger the annoying "Download Fonts" error. Let us know which of these hacks helped you fix Adobe CC on your macOS device. Was it one of the basic tips to get you started, or was it the cleaner tool that helped you? Share your feedback and let us know if you can find any other effective tips you can use to fix this error.