How about a nostalgic trip to Hogwarts? Harry Potter has successfully turned many Muggles into Potterheads since his first film, Harry Potter and the Philosopher's Stone, was released in 2001. This year marks the 20th anniversary of the Harry Potter film series. Warner Brothers surprised fans by announcing a Harry Potter reunion special hosted by HBO Max. The streaming rights are also distributed to other OTT platforms worldwide, as not everyone has HBO Max in their country. So if you're wondering how to stream Harry Potter 20th Anniversary: ​​Return to Hogwarts, India, let's see how and when to watch the Harry Potter Reunion in India.
Stream Harry Potter 20th Anniversary Reunion Special in India (2021)
The wait is over for Indian fans as Harry Potter 20th Anniversary: ​​Return to Hogwarts is finally coming to India without waiting a few more months. You can stream the Harry Potter reunion with the whole world at the same time. Make your childhood easier with Daniel Radcliffe, Rupert Grint, Emma Watson, and other cast members. Let's think of this as a New Years gift and let's see where and how to watch the Harry Potter Reunion in India.
Where to see Harry Potter Reunion in India
Amazon Prime Video India announced on December 21, 2021 on its Twitter account that they would be streaming the Harry Potter Reunion in India. It's no surprise as you can see all of the Harry Potter and Fantastic Beasts movies on Prime Video.
The reunion special with the title "Harry Potter 20th Birthday: Return to Hogwarts"Is produced by Warner Bros. on the Warner Brothers Studio Tour in London. The set includes popular locations such as Diagon Alley, the Great Hall, Platform 9 ¾ and the Forbidden Forest. So you can expect some nostalgic recreations of scenes from these locations.
Harry Potter 20th Anniversary Reunion: Release Date and Time
The Harry Potter 20th Anniversary: ​​Return to Hogwarts Reunion Special will be available for viewing January 1, 2022, 2:30 p.m. IST on Amazon Prime Video in India. The special episode is likely to follow its release in India after it starts streaming in the US at midnight on HBO Max.
Harry Potter 20th Anniversary Reunion: Latest Trailers
HBO Max released the first teaser of the Harry Potter reunion on November 16, 2021, which caused a wave among fans about the upcoming holiday fun. The teaser mainly showed clips from all Harry Potter films, while Hedwig's theme was playing in the background.
Then, on December 6, 2021, a teaser trailer was released that began showing the Daily Prophet with messages entitled "Hogwarts Welcomes Alumni Again". We can also see various actors receiving invitations, which is similar to the letter of acceptance from Hogwart that we saw in the first Harry Potter film. In contrast to the first teaser trailer, this video gave us a little foretaste of the reunion special.
Finally, HBO Max released a full-fledged trailer on December 20, 2021. It featured all of the cast who joined the party including Daniel, Rupert Grint, Emma Watson, Tom Felton, Helena Carter, and many more. They seem to enjoy a unique and chic welcome on set and discuss their time over the years the eight films were made.
How emotional this special will be can be felt in Emma's dialogue from the trailer. "When it gets really dark and times get really tough, there is something about Harry Potter that makes life richer." She said.
Watch Harry Potter: Hogwarts Tournament of Houses
HBO Max released the main trailer shortly after the Hogwarts Tournament of Houses ended. The wizarding world hosted a game show with four episodes to see which house has the greatest Potterheads. Once the game show ended on HBO Max, all four episodes were made available on Amazon Prime Video.
So while you wait for the 20th Anniversary Reunion Special, check out the Harry Potter: Hogwarts House Tournament to get you in the mood for the nostalgic journey ahead. While you're at it, we also recommend that you do a film marathon during the Christmas holidays. All Harry Potter films are available on Prime Video in India.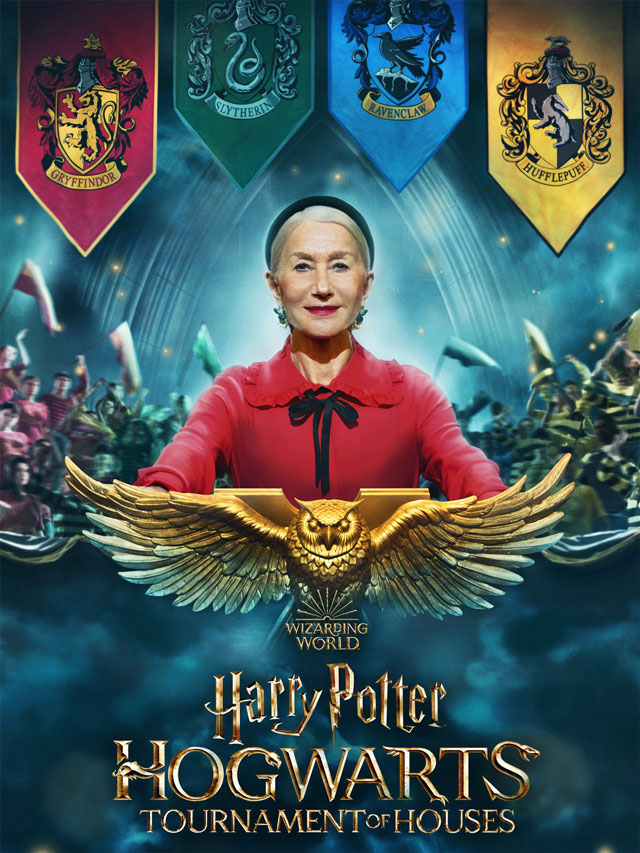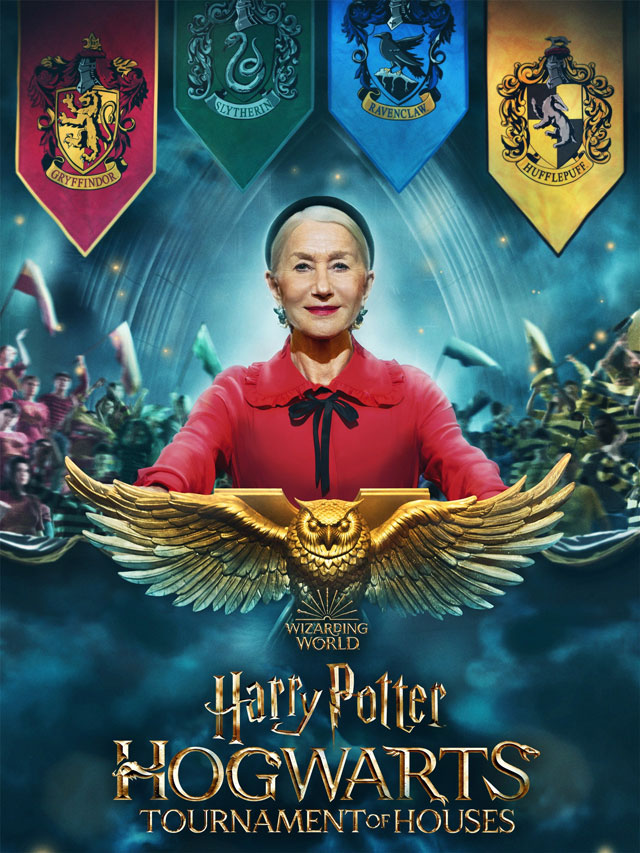 How to watch Harry Potter Reunion in India
The Harry Potter 20th Anniversary: ​​Return to Hogwarts Reunion Special will be available to stream on January 1st on Amazon Prime Video in India. Hence, you have to Get an Amazon Prime subscription, whose price was recently increased by 50% in India to see the show. Aside from Harry Potter, you get a ton of content on Prime Video. Amazon Prime also offers additional benefits such as fast delivery, access to Amazon Music and Amazon Prime Gaming.
Amazon Prime comes in three plans – monthly, three months, and yearly. You can choose what suits you best. The monthly plan is available for 179 yen (only if you want to stream the reunion special and nothing else) and the three-month plan is 459 yen. The annual plan, which is the best value for money, costs 1,499 yen. So let's see how you can subscribe to Amazon Prime Video to watch the Harry Potter reunion in India.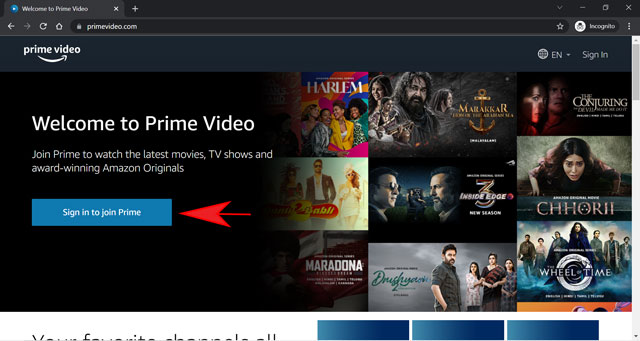 If you don't have an Amazon account, create one by registering your email ID. Then check the OTP that was sent to your email address.
Now select a plan from the three available options as described above and shown in the screenshot below.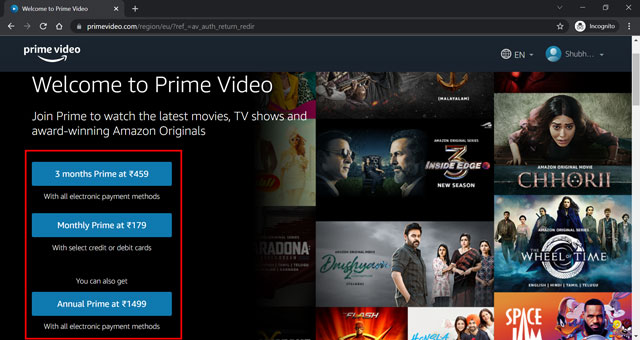 Select a payment method of your choice, e.g. B. Credit card, Netbanking or UPI. You can check out the best UPI apps for India here.
note: Not all of the payment methods listed above are available for every Amazon Prime Video plan.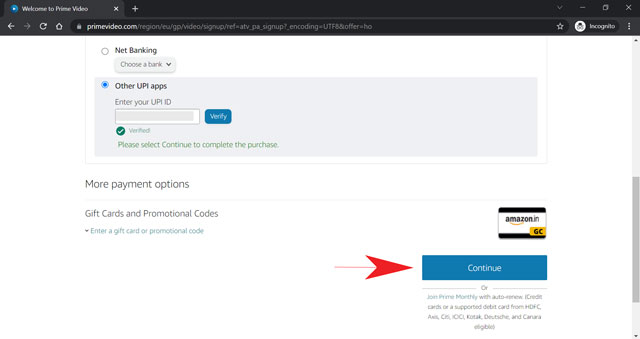 Next, select an existing address or add a new one and click the "Use this address" button to confirm the change.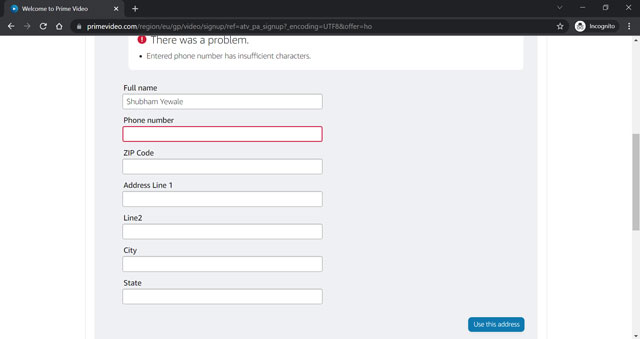 Finally, confirm your details and complete the payment by clicking on "Register and pay"Button.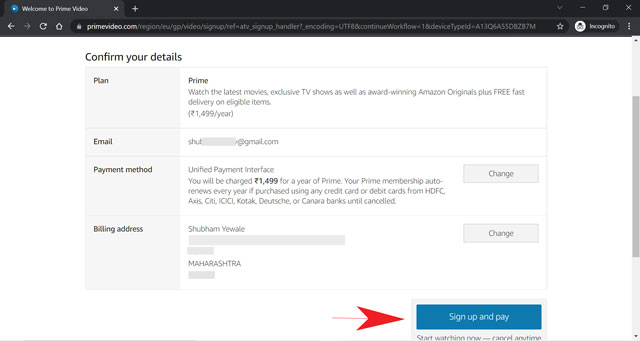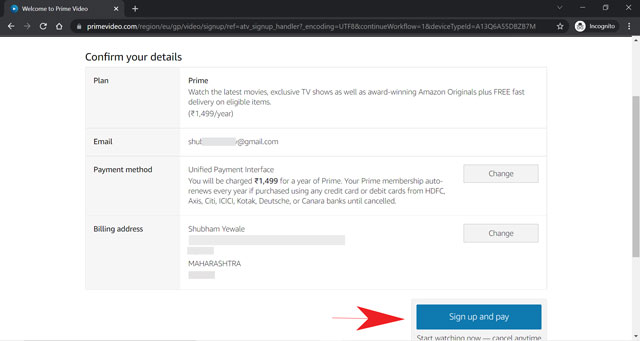 You are now subscribed to Prime Video in India. You can start by watching the Harry Potter movies or any other show you like. Harry Potter: Return to Hogwarts streaming will be available to all members on January 1, 2021.
How to See Harry Potter: Returning to Hogwarts with Friends
I suppose a lot of your friends must be Potterheads too. Wouldn't it be great to take the nostalgic trip to Hogwarts with your loved ones and fondly remember your childhood? You can either have a house party on New Years Eve to watch the Harry Potter reunion offline. Or, you can use Amazon Prime Video's Watch Party feature to host a virtual party.
Prime Video is the easiest way to watch a movie or show with your friends. All you (and your friends) need is access to a Prime subscription and you're good to go. Let's see how to use the Watch Party feature in Amazon Prime Video to stream the Harry Potter 20th anniversary special with friends.
Open a movie or TV show that you want to watch with your friends. Click the party popper icon (🎉) below the title to have a watch party.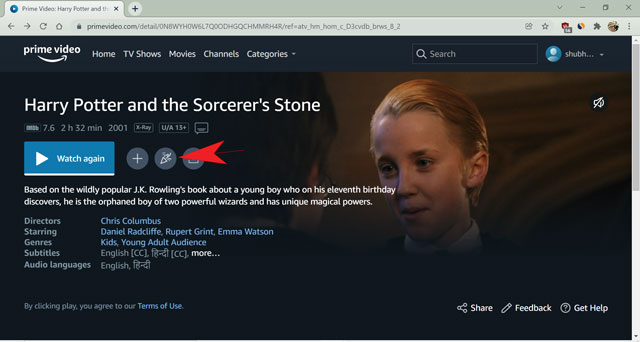 Add your name under "Chat As" and click on "Create watch party".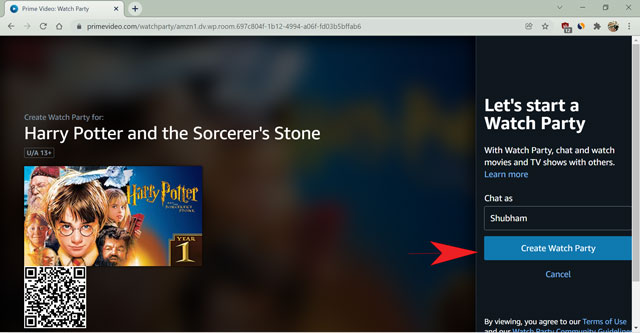 Finally, click the "Copy Link" button and share the link with your friends. Anyone with the link can join your Prime Video watch party if they have an Amazon Prime subscription.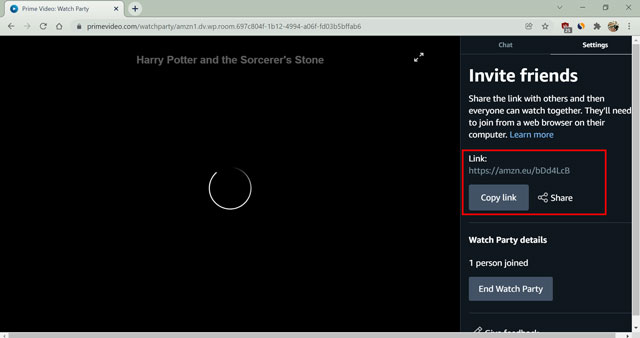 You can check if your friends have joined the party and stream for them all together. In the meantime, you can also chat with friends, discuss things, and enjoy your time.
Harry Potter 20th Anniversary Expectations: Return to Hogwarts
Harry Potter 20th Anniversary: ​​Return to Hogwarts is a special episode that will likely last an hour and a half to two. Please note that this is not a film or a sequel, but rather an unscripted interview show in which all actors share their experiences with the filming. We can also expect a recreation of some iconic scenes from the films such as shopping in Diagon Alley, the Christmas ball or a duel between Harry and Draco. In any case, it will take us on a journey of memories into the magical world of Hogwarts. I hope you are as excited as I am about our upcoming reunion. Feel free to ask questions in the comments section below.